MEET THE SENIOR LEADERSHIP TEAM
KELLY HOY - NURSERY MANAGER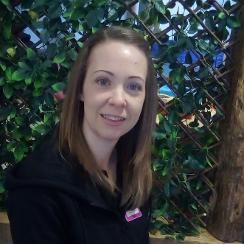 KELLY HOLDS A LEVEL 3 QUALIFICATION IN EARLY YEARS, SHE HAS EXPERIENCE OF WORKING ON A NEO NATAL WARD AND AS A CHILDMINDER.
"IN MY SPARE TIME I ENJOY COOKING, I PARTICULARLY LIKE TRIALLING NEW JAMIE OLIVER RECIPES. SOCIALISING & COOKING FOR MY FRIENDS AND FAMILY IS A BIG PART OF MY LIFE. I LOOK FORWARD TO MY DAYS AT NURSERY, EVERY DAY IS DIFFERENT AND ALL FILLED WITH LOTS OF FUN, SINGING AND ENGAGING IN MESSY PLAY. THE BEST PART IS WATCHING THE CHILDREN GROW & DEVELOP THEIR LITTLE PERSONALITIES & I'M REALLY ENJOYING BEING MANAGER TO SUCH AN AMAZING TEAM."
DEBORAH (DEBS) PRENTICE - DEPUTY MANAGER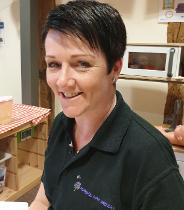 DEBS HAS A LEVEL 3 QUALIFICATION IN EARLY YEARS AND IS THE NURSERY SENCO.
DEBS LEADS THE ROOSTERS ROOM ALONGSIDE HER DEPUTY ROLE.
"I AM AN OUTDOOR PERSON AND MY FAVOURITE PLACE TO BE IS MY GARDEN. I HAVE FOUR CHICKENS CALLED BONNIE, MILDRED, MISTY AND CLUCKLES, AND A CAT CALLED HENRY. I ALSO LIKE TO SPEND TIME ON CRAFT ACTIVITIES, MAKING DECORATIONS, PLAQUES ETC. I ALSO ENJOY SPENDING TIME WITH MY LOVELY FRIENDS AND FAMILY.
I LOVE WORKING AT THE NURSERY, IT IS AN AMAZING SETTING, WITH GREAT OUTDOOR AREAS FOR THE CHILDREN. WE ARE LUCKY TO HAVE A GREAT TEAM, WITH WONDERFUL CHILDREN AND PARENTS."
ALICE WOODING - THIRD IN CHARGE
ALICE RE-JOINED US IN 2019, SHE HAS A LEVEL 3 IN EARLY YEARS AND LEADS THE PIGLETS ROOM, ALONGSIDE HER THIRD IN CHARGE ROLE.
"I AM AN ADVENTUROUS, BUBBLY PERSON WHO ENJOYS BEING OUTDOORS AND BEING SURROUNDED BY FRIENDS, SOCIALISING AT THE LOCAL PUB OR TRYING DIFFERENT RESTAURANTS FOR DINNER. I HAVE ALWAYS LIVED IN THE COUNTRYSIDE & LOVE EXPLORING, WHEN I WAS YOUNGER I WAS PART OF SCOUTS FOR MANY YEARS AND I CONTINUE TO LOVE CAMPING AND TRAVELLING. MY LOVE FOR HORSES & ALL ANIMALS HAS LED TO A LIFE OF MUDDY BOOTS & HAY IN MY HAIR. MY WEEKENDS ARE SPENT WITH MY HORSE PEANUT & WALKING WITH FRIENDS & FAMILY. I AM AN ARTISTIC PERSON WHO ENJOYS PAINTING, FELTING, CLAY & IN MY SPARE TIME I CONTINUE TO ADD TO MY SMALL CRAFT BUSINESS.
WORKING AT LATIMER IS SUCH A JOY, BEING ABLE TO EXPLORE THE FARMLAND & VISIT THE ANIMALS IS WONDERFUL & THE CHILDREN GET SO MUCH ENJOYMENT & LEARNING EXPERIENCES FROM OUR OUTDOOR ADVENTURES. WE GET TO EXPERIENCE NEW LIFE, GROWTH & CHANGE THROUGH THE SEASONS."
AMY RICHARDSON - ROOM LEADER
AMY HOLDS A LEVEL 3 QUALIFICATION IN EARLY YEARS & LEADS THE DUCKLINGS ROOM.
" I LIKE TO EXCERCISE, ESPECIALLY RUNNING & ENJOY SOCIALISING WITH FRIENDS, PARTICULARLY AT AN AFTERNOON TEA!
I'M NEWLY ENGAGED SO CURRENTLY TRYING TO PLAN A WEDDING! I HAVE TWO CHILDREN, A GIRL WHO IS ALMOST 2 AND A BOY WHO IS 6. WE LOVE TO EXPLORE THE OUTDOORS TOGETHER & THIS IS ONE OF THE REASONS I LOVE THE NURSERY FOR MYSELF AND MY DAUGHTER. BEING SO CLOSE TO THE FARM & THE ANIMALS IS SUCH A LOVELY AND UNIQUE BONUS TO CHILDCARE."
KERRI GODWIN - SENIOR PRACTITIONER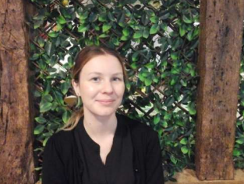 KERRI HOLDS A LEVEL 3 QUALIFICATION.
"I LOVE BEING OUTDOORS & REALLY ENJOY FAMILY WALKS AT THE WEEKENDS WITH MY PARTNER AND OUR 2 YEAR OLD LITTLE GIRL. I LIKE SOCIALISING WITH MY FAMILY & FRIENDS WHEN POSSIBLE, CURRENTLY THROUGH VIDEO CALLS/ZOOM. WE OFTEN HAVE GREAT FUN PLAYING QUIZZES TOGETHER ON A FRIDAY EVENING.
I PARTICULARLY ENJOY WORKING AT OUR NURSERY AS IT HAS A FAMILY FEEL ABOUT IT (WE FEEL LIKE A HUGE FAMILY). IT IS SO LOVELY TO BE ABLE TO SPEND LOTS OF TIME OUTDOORS & VISIT THE ANIMALS WHICH MYSELF & MY DAUGHTER LOVE (SHE ALSO ATTENDS THE NURSERY). "
COURTNEY LEE - NURSERY ASSISTANT
COURTNEY IS COMPLETING HER LEVEL 3 QUALIFICATION IN EARLY YEARS.
" AT THE WEEKENDS, MY PARTNER, OUR 2 YEAR OLD & I ENJOY EXPLORING NEW PLACES TO WALK WITH OUR DOG, I AM ALSO GETTING INTO DOG SPORT TRAINING & RECENTLY GOT BACK INTO AN OLD HOBBY, PHOTOGRAPHY.
I LOVE THE NURSERY BECAUSE OF THE BEAUTIFUL ATTRIBUTES & CHARACTERISTICS THE SETTING HAS, THE FARMLAND AND ANIMALS ESPECIALLY."
Noreen Akhtar - Breakfast Assistant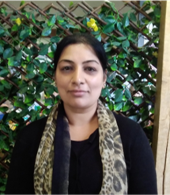 NOREEN ASSISTS THE DUCKLINGS DURING BREAKFAST, GREETING THEM & HELPING THEM SETTLE INTO THEIR DAY AT NURSERY.
"AMAZING BUNCH OF CHILDREN! I ENJOY SPENDING TIME WITH THEM EVERY MORNING & FORMING CLOSE BONDS WITH THEM. THEY ARE AN ABSOLUTE DELIGHT TO BE AROUND.
I, MYSELF ENJOY COOKING WHICH MANY OF THE STAFF HAVE COMPLIMENTED ON, USUALLY SOUTH-ASIAN FOOD. I AM A VERY FAMILY ORIENTATED PERSON & IN MY SPARE TIME I LIKE TO READ. BEING A RECENT MEMBER OF THE ASHRIDGE TEAM, I WAS WELCOMED BY WARM-HEARTED, FRIENDLY STAFF WHO ALWAYS GO ABOVE & BEYOND TO PROVIDE FOR THE CHILDREN. IT FEELS LIKE A BIG FAMILY!!"


FRANCESCA PUTT - L3 NURSERY PRACTITONER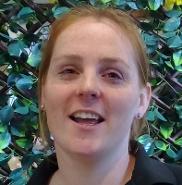 FRANCESCA IS LEVEL 3 QUALIFIED.
CHLOE HENDRICK-LOCKHURST - L2 NURSERY PRACTITIONER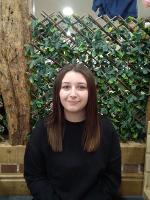 CHLOE HOLDS A LEVEL 2 QUALIFICATION IN EARLY YEARS.
SOPHIE HUTTON - NURSERY ASSISTANT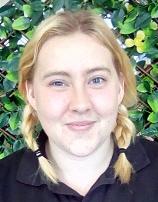 SOPHIE HAS BEEN AT NURSERY SINCE THE DOORS OPENED AND IS TRAINING FOR HER LEVEL 3 QUALIFICATION.
"I ENJOY SPENDING TIME WITH FAMILY & FRIENDS, & LIKE TO BE A POSITIVE PERSON WHO WILL ALWAYS HELP OTHERS. I'M PASSIONATE ABOUT ART AND LIKE TO EXPRESS MY CREATIVITY THROUGHOUT THE NURSERY.
I CAN OFTEN BE FOUND SINGING "JUMPING UP & DOWN ON A BIG BLUE TRACTOR" TO THE CHILDREN, LETTING THEM CHOOSE DIFFERENT COLOURS AS WE SING.
DONNA COOMBS - NURSERY ASSISTANT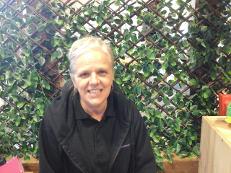 DONNA SUPPORTS THE TEAM IN THE LAMBS ROOM.
SHE BRINGS HER EXPERIENCE AS A MOTHER TO THE TEAM.
" I AM A VERY BUBBLY PERSON & OFTEN SING SONGS SPONTANEOUSLY, I DO THIS THROUGHOUT THE DAY AT NURSERY WITH THE CHILDREN, THEY HAVE LEARNT SO MANY ACTIONS TO THE DIFFERENT SONGS.
I ALSO LOVE SPENDING TIME WITH MY LOVED ONES."
HONOR ROOKE - L3 NURSERY PRACTITIONER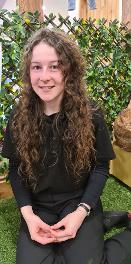 HONOR HOLDS A LEVEL 3 QUALIFICATION IN EARLY YEARS.
"WHEN I AM NOT AT NURSERY I CAN USUALLY BE FOUND DEEP IN THE MIDDLE OF THE WOODS OR SOMEWHERE OUTSIDE, HAWKING AT BIRDS, HUNTING FOR MUSHROOMS & DIGGING FOR INSECTS. I AM PASSIONATE ABOUT NATURE & BEING OUT NO MATTER WHAT TIME OF THE YEAR!
MY FAVOURITE TIME OF THE DAY AT NURSERY IS BEING OUT IN THE FRESH AIR WITH THE CHILDREN, EXPLORING OUR SURROUNDINGS & LOOKING FOR NATURE.
I ENJOY WALKING, CAMPING & CLIMBING. I AM CURRENTLY STUDYING & COMPLETING MY LEVELS IN BRITISH SIGN LANGUAGE. I ALSO HOPE TO FURTHER MY TRAINING & KNOWLEDGE IN FOREST SCHOOLS TO FURTHER SUPPORT THE CHILDREN'S DEVELOPMENT OUTSIDE."
JUDI CLACK - NURSERY ASSISTANT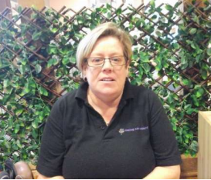 JUDI SUPPORTS ALICE & HONOR IN THE PIGLETS ROOM, BRINGING HER EXPERIENCE AS A MOTHER TO THE TEAM.
"I AM A BIG FAMILY PERSON AND I LOVE DOING THINGS WITH MY FAMILY & CHILDREN. I HAVE FOUR CHILDREN, THREE BOYS AND ONE GIRL, I RECENTLY BECAME A GRANDMOTHER TO MY GORGEOUS LITTLE GRANDSON ALFIE. I HAVE A LABRADOODLE NAMED STELLA AND I ENJOY BEING OUT & ABOUT WITH HER ON WALKS. MY HOBBIES INCLUDE READING, COLOURING & I AM A BIG FAN OF FOOTBALL, SUPPORTING TOTTENHAM HOTSPURS.
THERE ARE MANY THINGS I LOVE ABOUT WORKING AT LATIMER NURSERY BUT I LIKE THE WONDERFUL GROUP OF PEOPLE I WORK WITH WHO ALWAYS PULL TOGETHER & WORK AS A TEAM. I ENJOY GOING FOR WALKS & THE FREEDOM WE HAVE EXPLORING THE FARM WITH THE CHILDREN."
Diane Sheppard - Breakfast Assistant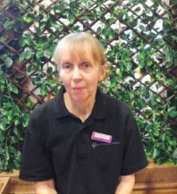 DIANE SUPPORTS THE PIGLETS DURING BREAKFAST TIME, AND OFFERS A FRIENDLY FACE TO START THEIR DAY AT NURSERY.
"I ENJOY SPENDING MY SPARE TIME EXPLORING THE COUNTRYSIDE & WILDLIFE ON WALKS & TRAVELLING FOR HOLIDAYS. I SUPPORT MY LOCAL FOOTBALL TEAMS CHECHAM FC & WYCOMBE WANDERERS, I LIKE TO GO TO GAMES AS OFTEN AS POSSIBLE.
I LIKE WORKING AT LATIMER NURSERY BECAUSE OF THE GREAT OUTDOOR SPACE THE CHILDREN HAVE TO EXPLORE & LEARN IN. THE EXPOSURE TO THE FARM LIFE & ANIMALS GIVES BRILLIANT OPPORTUNITIES TO THE CHILDREN. THE TEAM OF STAFF ARE A GREAT GROUP OF PEOPLE & ARE A PLEASURE TO WORK WITH."
STEPHANIE (STEPH) WOODS - L3 NURSERY PRACTITIONER
STEPH HOLDS A LEVEL 3 QUALIFICATION IN EARLY YEARS.
"OUTSIDE OF WORK I LOVE GOING TO THE ZOO (I MISS THE ZOO, ESPECIALLY AS MY SON FLYNN WILL BE MORE INTERESTED NOW) I HAVE A KEEN INTEREST IN GUINEA PIGS, SADLY I NO LONGER HAVE ONE.
I LIKE WORKING AT NURSERY BECAUSE I LIKE THE PEOPLE I WORK WITH AND EVERYDAY IS DIFFERENT AND ALL OF THE DIFFERENT PERSONALITIES OF THE CHILDREN."
GEORGIA MORRIS - NURSERY APPRENTICE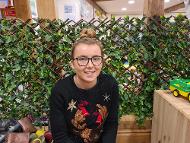 GEORGIA IS UNDERTAKING HER LEVEL 2 QUALIFICATION IN EARLY YEARS.
"I LIKE WALKING THE DOG AND KEEPING MYSELF ACTIVE - I ALSO LIKE SOCIALISING WITH FRIENDS AND SHOPPING WHEN POSSIBLE.
I LIKE WORKING WITHIN THE NURSERY BECAUSE I LIKE THE PEOPLE I WORK WITH, THE CHILDREN AND HOW FRIENDLY THE PARENTS/CARERS ARE. I ALSO LIKE WORKING WITHIN OUR SETTING BECAUSE OF THE SURROUNDINGS/FARM WE HAVE TO EXPLORE.
A FEW HOBBIES I ENJOY ARE: BAKING, I USED TO PLAY A LOT OF NETBALL AND ALSO RELAXING & SPENDING TIME WITH FAMILY AND FRIENDS."


TEAM MEMBERS ON MATERNITY LEAVE
LINDA BRUNNER - NURSERY PRACTITIONER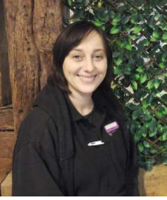 LINDA HOLDS A LEVEL 3 QUALIFICATION IN EARLY YEARS.
JADE READ - NURSERY PRACTITIONER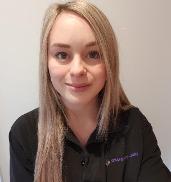 JADE HOLDS A LEVEL 6 QUALIFICATION IN CHILDCARE.