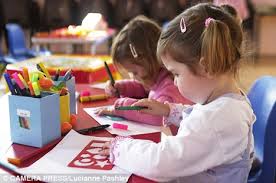 Fees Schedule from october 2017
Registration Fee £100 (non-refundable) *
Deposit £200 (Refunded from the final account)
* not charged if your initial application is only for the Government free funded hours
2 months - 3 years
| | | |
| --- | --- | --- |
| 5 DAYS (FULL TIME ) | 7.30AM-6.00PM (INCLUDES BREAKFAST, LUNCH & TEA) | £1,100.00 (SEE NOTES) |
| 1 DAY | 7.30AM-6.00PM (INCLUDES BREAKFAST, LUNCH & TEA) | £55.00 |
| AM SESSION | 7.30AM-1PM (INCLUDES BREAKFAST & LUNCH) | £34.00 |
| PM SESSION | 1PM-6PM (INCLUDES TEA) | £33.00 |


3 – 5 years before free hours funding
| | | |
| --- | --- | --- |
| 5 days (full time ) | 7.30am-6.00pm (includes breakfast, lunch & tea) | £1,030.00 (see notes) |
| 1 day | 7.30am-6.00pm (includes breakfast, lunch & tea) | £50.71 |
| AM session | 7.30am-1pm (includes breakfast & lunch) | £30.95 |
| PM session | 1pm-6pm (includes tea) | £29.95 |
Notes:
You are charged for 50 weeks a year. The Nursery is closed between Christmas and New Year, all Bank Holidays and you are not charged for days we are closed including bank holidays.

Fees are billed on a monthly basis(the age of your child at the start of each month will determine the fee structure for the entire month) so your costs are spread evenly across the year.

Your fee covers the cost of care, meals, trips and visiting entertainers and Calpol if needed.

If you are a teacher you may if you wish take your child out of nursery for the whole of August and not pay fees for that month (this is not applicable to government funded hours) this facility applies to the Summer holidays only. To come to this arrangement with the Nursery, we will need your written confirmation by 30th June each year.

Nursery fees are payable in full on or before the first day of each month.
One full month's notice or payment of a full month's fees is required when withdrawing a child from the Nursery.

The price for a full time place is per calendar month and includes a 2.5% discount.
A 2.5% reduction will be given for a second child in full time placement at the Nursery (whilst an older brother or sister is full time at the Nursery).

This fee schedule is effective from 1st october 2017 to 31 September 2018 and will be reviewed in July 2018.

Government Free Places for 2/3+

At present your child is entitled to a maximum of 30 hours free educational childcare per week from the term after their 3rd birthday. Some parents may also qualify for 15 hours
funding for 2 years +.
check your eligibility for funding for 2 years +
You will not be charged a fee for registration or a deposit if your initial registration with ashridge day nursery is solely for access to your free hours entitlement and continues to be so.
If you live in Hertfordshire, you do not have to re-apply on line for your place at Ashridge Day Nursery if your child is already here. The free hours can be taken at 1 or 2 providers.


if your child attends more than one pre school you can take your entitlement at both providing it does not exceed your funded hours per week per term. As the free places are provided on a term time basis (38 weeks a year) we will spread your childs entitlement across the additonal weeks within each funding period. we will need to re-apply for your free places each term (1st sept-31st dec, 1st jan - 31st Mar, 1st apr - 31st aug) and will ask you to re-sign your form each time.
FURTHER INFORMATION ABOUT THE HERTFORDSHIRE COUNTY COUNCIL'S FREE HOURS CAN BE FOUND
http://www.hertsdirect.org/infobase/docs/pdfstore/faqflex.pdf
YOU WILL STILL BE BILLED MONTHLY AND RECEIVE A BREAKDOWN AT THE START OF EACH TERM TO SHOW HOW YOUR FEES HAVE BEEN CALCULATED.

TO BE ABLE TO RESPOND FLEXIBLY TO OUR PARENTS CHILDCARE NEEDS WE HAVE BROKEN DOWN OUR DAILY meal costs (WHICH THE FUNDING DOES NOT COVER). YOU DO NOT HAVE TO ENROL FOR ADDITIONAL HOURS or purchase meals TO BE ABLE TO CLAIM YOUR FREE FUNDED HOURS . WE WILL HOWEVER CHARGE YOU FOR ANY ADDITIONAL HOURS BEYOND YOUR CHILD'S FREE ENTITLEMENT THAT YOU WISH tO CONTINUE WITH AT aSHRIDGE DAY NURSERY.


| | |
| --- | --- |
| | |
| Breakfast | £1.50 |
| Snack (morning) | £0.75 |
| Lunch | £4.50 |
| Snack (afternoon) | £0.75 |
| Tea | £2.50 |
child tax credits
help is available through the childcare element of working tax credit. it provides substantial support with childcare costs and many families are surprised when they find they are eligibile for it. please check the following link
Childcare vouchers
for working parents childcare vouchers are an excellent way to spread and reduce the costs of childcare. Ashridge Day Nursery are registered to accept childcare vouchers and we can discuss this with you.